Pediatric Dentistry Checkups & Teeth Cleanings – Wylie, TX
Protect Your Child's Smile from Common Oral Problems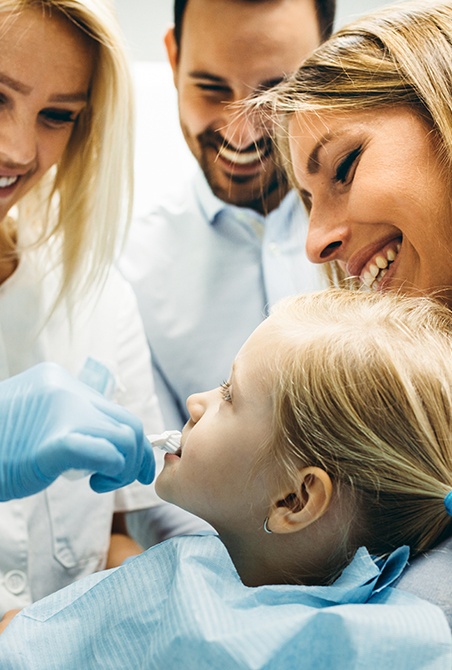 The best way to keep your child's smile healthy is to bring them to routine checkups and cleanings every six months. During these appointments, we can suggest several preventive treatments that can make brushing and flossing more effective and will make sure that any lingering, small oral health problems are treated before they can cause any damage to your child's mouth. We also take time to teach your little one how to properly brush and floss their teeth at home to keep their smile healthy between their appointments.
Why Choose Wylie Children's Dentistry
for Pediatric Dentistry Checkups & Teeth Cleanings?
Safe Digital
X-Ray Imaging
We Accept
Dental Insurance
Prevent Cavities with
Dental Sealants
Dental Sealants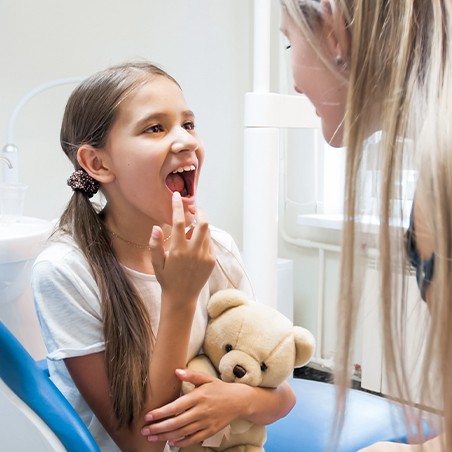 According to the statistics provided by Centers for Disease Control and Prevention, almost 70 percent of individuals in America under the age of 19, are affected by tooth decay. Sealants are one of the simplest and most effective ways to prevent cavities by placing a protective coat over the pits and fissures located on the chewing surfaces of your child's molars. As these areas are hard to reach, brush and keep clean, the sealants shield the tooth structure from accumulation of plaque and food debris.
Sealant placement serves as a preventive measure, with the goal of alleviating the need for more invasive procedures in the future such as fillings, root canals, crowns or extractions. Premature tooth loss can be typically avoided by using this method of prevention as the sealants last for many years and effectively guard newly developed teeth from decay.
Learn More About Dental Sealants
Non-Nutritive Habits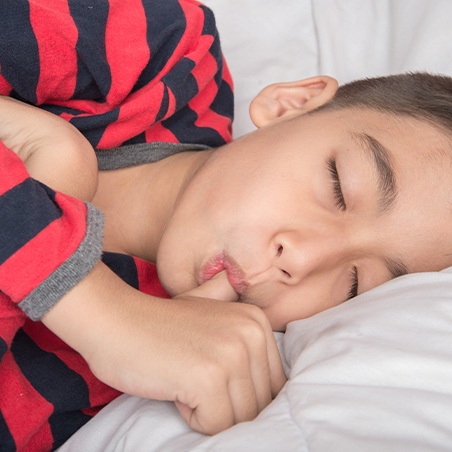 While it's completely natural for infants to suck on their thumb to help calm themselves, as your child gets older and most of their temporary teeth are grown in, it'll be important to encourage them to develop different coping habits to help them feel safe. Our team collaborates with parents on different methods of encouraging children to not suck their thumb. That way, children aren't at a higher risk of needing orthodontic treatment as they're older.
Learn More About Thumb Sucking
Fluoride Treatments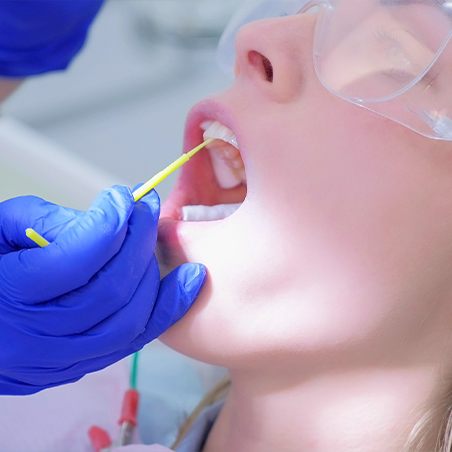 Fluoride is a naturally occurring mineral that's produced by rocks and can be found in fresh fruits and vegetables. Countless cities and towns add this mineral to their local water supplies because it has been shown to strengthen tooth enamel and prevent cavity development. If your child is highly susceptible to cavities because there's not enough fluoride in their daily diet, we can provide them with a pain-free and fast treatment at their next cleaning.
Oral Cancer Screenings
While oral cancer is incredibly rare in children, we still conduct screenings at each checkup because this disease can impact anyone, regardless of their age. The process is quick and thorough. One of our trained dental hygienists or Dr. Pearson will inspect your child's oral tissues, lips, and throat in search of any signs of the disease. If we spot anything that seems suspicious, we'll refer them for additional testing.
Early Childhood
Caries Detection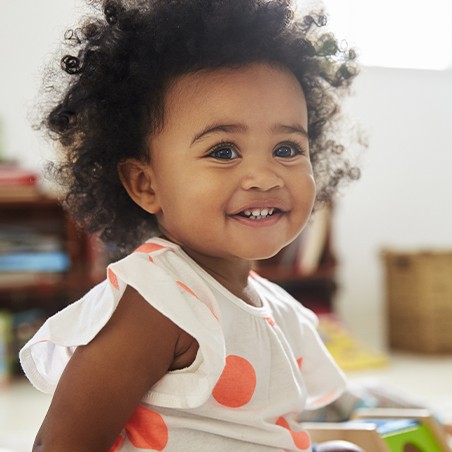 Early Childhood Caries (also known as baby bottle tooth decay) is caused when the teeth of an infant are frequently exposed to liquids containing sugar including milk, formula, juices, sodas, sports drinks, and teas throughout the day. There is significant risk of tooth decay from using a bottle when sleeping or when nursing occurs continuously. When an infant is allowed to fall asleep with a bottle, liquids collect around the teeth. The sugars in the liquids feed the bacteria in an infant's mouth and the bacteria cause tooth decay.
To help prevent Early Childhood Caries, encourage your child to:
Drink water following the bottle or nursing
Drink from a cup
Wean from the bottle by age one
A Dental Office Built
on Prevention
Both dental caries and gum disease are preventable. We aim to help your child avoid dental diseases before they begin.
Prevention in our dental office includes:
Learning about your dental, social and dietary habits
Educating you and your child about the causes of tooth decay
Reviewing proper oral hygiene instructions with you and your child
Prescribing specific anti-caries products customized to your child's needs
Offering sealants to protect the chewing surfaces of back teeth
Providing nutrition counseling with each exam
Call us to schedule an appointment and learn more about how to help your child remain free of dental disease with our customized care.