Emergency Kid's Dentist — Wylie, TX
Here for You & Your Child When You Need Us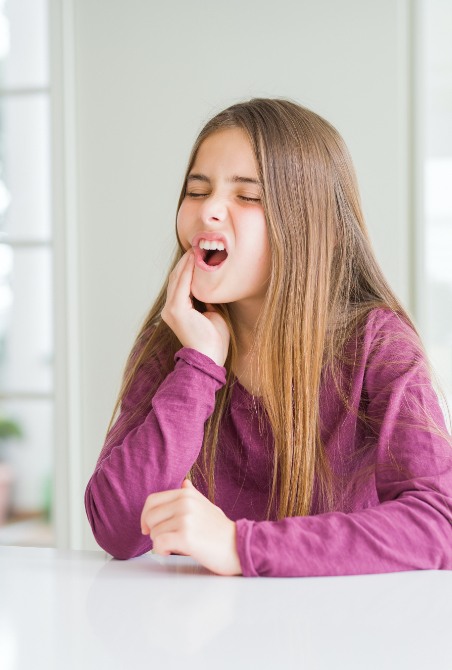 Dental emergencies are no laughing matter. For children, the shock of the situation can make it extremely difficult to help calm them down and do what you need to protect their smile from the threat of additional damage. Fortunately, you've got an amazing emergency pediatric dentist by your side, Dr. Pearson! Just give us a call if you find yourself in a sticky dental situation and we'll work quickly to get your child into our dental office the same day for emergency kids' dentistry in Wylie, TX.
Why Choose Wylie Children's Dentistry for Emergency Kid's Dental Care?
We Accept Dental Insurance
Same-Day & Weekend Emergency Appointments
24-Hour Answering Service Available
What to Do in a Dental Emergency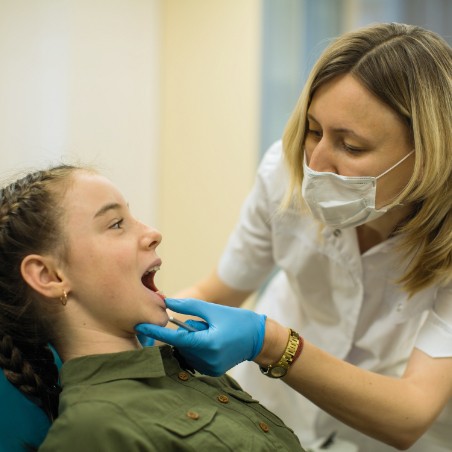 The first step you should always take if your child just experienced a dental emergency is to contact our dental office. We'll provide you with over-the-phone first-aid guidance to protect their smile and schedule an appointment for as soon as possible. Once they get to our dental office, we'll talk to them to help them feel a little more relaxed and capture any diagnostic information we need to be able to see what treatment will get them out of pain and fix the issue. We'll go over our findings with you and fully explain your options. Together, we'll work with you to create a custom treatment plan that will get your child the care they need in a way that works best for your family.
The Most Common Kids Dental Emergencies
Dental emergencies come in all shapes and sizes. Some are easy to identify, such as a broken or knocked-out tooth. However, there may be some situations where it's unclear how urgently your little one needs to see a dentist. Does a toothache count as a dental emergency? What about a lost filling? Or sensitive teeth?
We're here to help! We trust your instincts as a parent and encourage you to give us a call any time you are worried about your child's oral health. Will listen to you explain the situation over the phone and give as much advice as we can without an in-person evaluation. Sometimes we may want to see you right away, but other situations can wait until the next available appointment. Whichever the case, we'll also give you first-aid instructions for handling your child's emergency until you can reach us. Below, you'll find helpful information on some of the most common children's dental emergencies we treat.
Understanding the Cost of Pediatric Dental Emergencies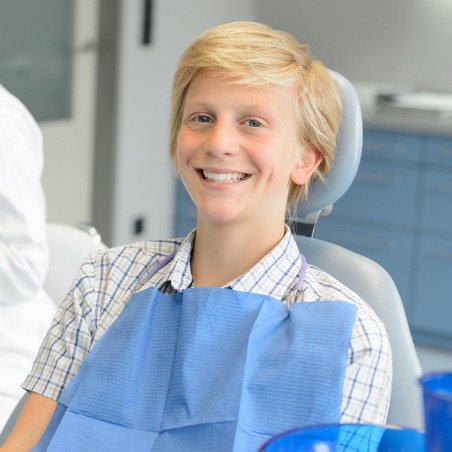 No two dental emergencies are the same, which is why we won't be able to determine the treatment your child will require until we've had a chance to examine their mouth and diagnose the underlying problem. Based on our diagnosis, we'll walk you through possible treatment options along with pricing. We are in-network with most PPO dental insurance plans and are more than happy to help you navigate your benefits to make treatment as affordable as possible. Read on to learn more about the cost of pediatric emergency dentistry in Wylie as well as alternative financing options you can explore.
Every Dental Emergency Is Different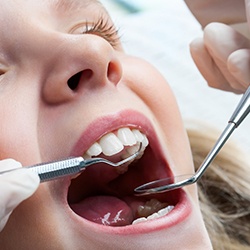 Our team will first need to perform a thorough oral examination to diagnose the underlying issue in your child's mouth. Depending on the situation, we may recommend simple treatments such as fillings or even more extensive procedures, like tooth extraction or pulp therapy. The necessary dental service will influence the overall cost of your little one's care. Regardless of the procedure, we'll make sure to walk you through your treatment options and provide you with a more accurate price estimate, that way there won't be any surprises when you get the bill.
Does Dental Insurance Cover Dental Emergencies?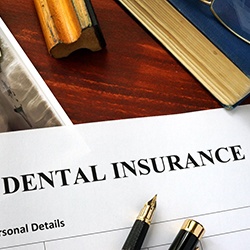 Fortunately, the majority of dental insurance providers will offer some coverage for pediatric emergency dental treatments. This may involve fully covering at least one yearly emergency examination and providing partial coverage for services associated with uncomfortable teeth, such as dental crowns, extractions, and pulp therapy. That said, policies will vary from patient to patient, so you'll want to confirm the details of your plan with your insurance company before committing to anything. Our team can also help you with this process if necessary, that way you can maximize your benefits.
Other Options for Making Dental Emergencies Affordable
Even if you don't currently have dental insurance, it doesn't mean you and your child will be completely left on your own. Our focus is to ensure your little one receives the necessary care to preserve oral health. That's why we offer the KLEER® Dental Membership Plan which can give significant discounts on all treatments with just one low monthly or annual fee. We are also partnered with a third-party financier called CareCredit which has plans that can cut the overall cost of your child's treatment into monthly installments with little to no interest!
Taking Care of Your Smile Can Save You Money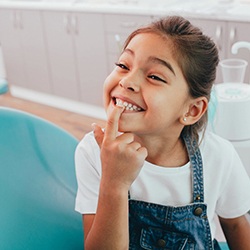 While practicing essential precautions can minimize your little one's risks, dental emergencies aren't always preventable. In fact, the majority of them occur due to untreated damage and infection. So, if your child ever voices any discomfort in their smile or damage to their teeth, be sure to get the problem addressed to avoid more complications and costly treatments down the road. With proper oral hygiene and regular checkups, your child can enjoy much better dental health for many years to come, and you'll be able to save hundreds over time.
How to Prevent Dental Emergencies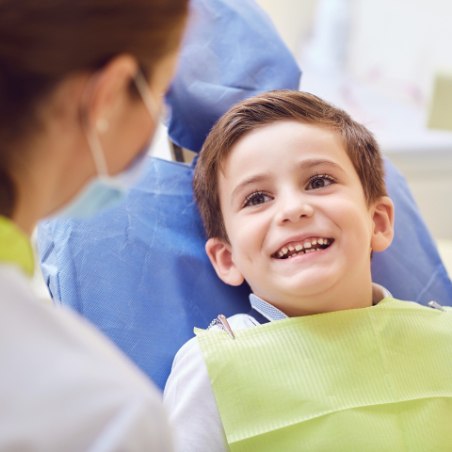 We are always ready to lend a helping hand when your child encounters an unexpected dental problem. However, we are sure that you and your little one would prefer to avoid such situations in the first place. Below, you'll find practical guidance that can help your child or teen to establish good habits that will greatly reduce the risk that they will need to request an appointment with an emergency dental office in Wylie.
Visit Your Dentist Regularly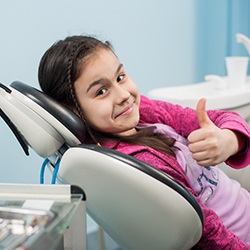 From the time they first start developing teeth, children should visit a dentist twice a year for a cleaning and checkup. At these appointments, we can spot dental problems while they are still in their early stages and provide valuable coaching to help young people understand the importance of oral health. We also thoroughly clean the teeth. In addition, we monitor our patients' oral development so we can spot issues like impacted teeth and other issues before they start causing serious symptoms.
Maintain Good Oral Hygiene Habits at Home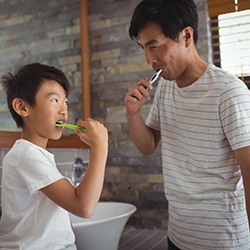 Most kids are able to thoroughly brush their own teeth by the time they are around 6 years old, but this can vary depending on a child's unique pace of development. Until that point, you should monitor their brushing so they can enjoy clean teeth on a daily basis. Flossing may take a little longer to master; most kids are able to do it on their own around the age of 10. Helping your child with these habits can do much to prevent dental emergencies in Wylie.
Eat a Balanced Diet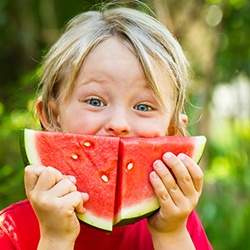 Kids tend to love sugary treats. Unfortunately, sugar can quickly contribute to decay and cavities. Try to steer your kids toward healthy snacks, like cheese, apples, crunchy raw vegetables, and nuts. Also, keep in mind that soda (even sugar-free varieties) and sports drinks are extremely acidic and can erode tooth enamel. It's best for children to drink mostly water and milk. Hard candies should also be avoided because they can easily break teeth.
Wear a Mouthguard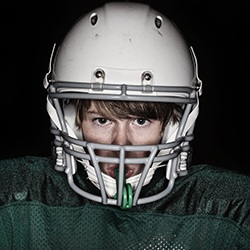 Does your child like to play sports? Even if their activity of choice is considered non-contact, they should still wear a mouthguard. Store-bought mouthguards provide a modicum of protection, but custom ones from a dentist are superior in terms of efficacy and comfort. Also, keep in mind that mouthguards are a good idea even if your child's sports league does not require them.
If your child grinds their teeth at night, they may need another type of mouthguard — one that is specifically designed to place a barrier between the upper and lower teeth to prevent them from harming one another.
Remember That Teeth Are Not Tools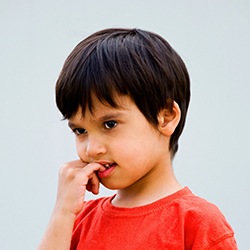 Kids can be pretty creative when it comes to accomplishing various tasks. Unfortunately, this often leads them to use their teeth for things that they were simply not designed to do. For example, your child might pry the lid off of containers, trim their fingernails, or tear into the packaging of their new toy — all with their teeth. Gently reminding your children to use appropriate tools for such tasks can go a long way toward reducing their risk of a dental emergency.
Dental Emergency FAQs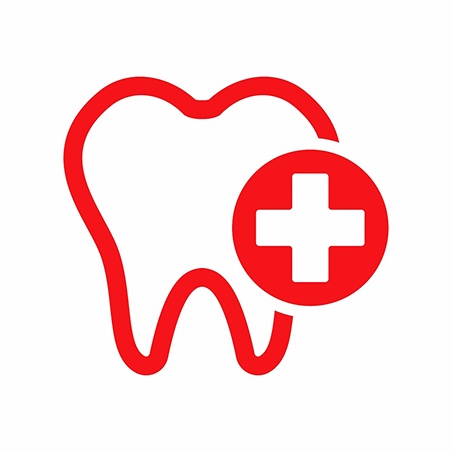 Reading through the above information can give you valuable insight into everything from the common types of dental injuries to preventive tips. However, to be as prepared as possible, you may still have some questions on your mind. Well, we want to help! Keep reading for the answers to some of the most frequently asked questions we get from parents regarding a dental emergency in Wylie.
Will My Child's Toothache Go Away on Its Own?
Despite popular belief, toothaches do not heal on their own. In fact, a once painful toothache that has "disappeared" may actually be an indicator the infection has damaged the nerve of the tooth! Therefore, it's always a good idea to schedule an appointment with your child's dentist right away. From there, they can determine the root of the problem and put a plan in place to restore the look and function of your little one's smile.
Should I Visit the Emergency Room First for My Child's Dental Emergencies?
If your child's dental emergency has resulted in a potentially life-threatening condition, like difficulty breathing or a broken jaw, then you should head to your local emergency room first. However, ERs typically don't have dentists on staff, meaning they won't be able to address dental emergencies effectively. Therefore, with all other smile-related injuries (lost filling, knocked-out tooth, etc.), your first call should be to your child's emergency dentist in Wylie.
My Child's Chipped Tooth Doesn't Hurt. Do They Still Need a Dental Visit?
Even if your child's chipped tooth doesn't hurt, it's a good idea to schedule an appointment with their dentist. Although they may not be in any pain, the inner layers of their tooth could be vulnerable to damage. Plus, their chipped tooth may break further without professional attention, resulting in sensitivity, soreness, and overall discomfort. With that being said, they can most likely afford to wait a day or two until their appointment if needed. Just make sure you don't put off taking them to their dentist for too long.
What Should I Keep in an Emergency Dental Kit?
From a lost filling to a knocked-out tooth, dental injuries can be anxiety-inducing. To make the entire experience as stress-free as possible, preparation is paramount. You should keep an emergency dental kit accessible with these essentials for your child:
A storage container large enough to fit a tooth or restorations
Sterile gloves
Gauze pads
Cotton balls
Dental cement (or other temporary filling material)
Denture adhesive
Petroleum jelly
Anti-inflammatories such as ibuprofen
Orajel
Floss
An ice pack or cold compress
Contact information for their emergency dentist in Wylie